*Current as of January 28, 2022*
INTRODUCTION
Our COVID-19 Safety Plan aims to maximise participation whilst keeping members safe and healthy. Our plan abides by current government regulations and has been informed by National and State bodies such as Sport Australia, NSW Health, and Gymnastics NSW.
It is important that members are aware of the Youth Clubs expectations of them and follow the instructions of their coaches at all times. In the interests of the safety and wellbeing of our members, we will have a Zero Tolerance Policy regarding COVID-19 policy violations. If athletes are unable or unwilling to follow safety measures, they will be excluded from activities and may face de-registration.
WHAT WE ARE DOING
We are a registered COVIDSafe business and are committed to providing a safe and clean environment for our members. In order to achieve this, we have introduced stringent hygiene, cleaning and social distancing measures. These measures include:
Limiting capacity to one person per 2 square metres.
Mandatory masks for all staff and patrons aged 12 or older.
QR check-in, temperature checks and hand sanitation upon entry to the Youth Club.
Daily cleaning of equipment and regular cleaning of communal facilities and high touch surfaces.
HEALTH AND WELLBEING
First and foremost, athletes MUST NOT attend training under the following circumstances:
if they are unwell or have COVID-19 symptoms (including fever, sore throat, cough or shortness of breath).
if an immediate family member is unwell or has COVID-19 symptoms.
if they have been advised by NSW Health to self isolate.
If you or a family member are unwell or have any COVID-19 symptoms, seek medical advice and get tested as soon as possible.
All patrons and staff are required to have their temperature checked upon entry to the Youth Club. Any individual with a temperature higher than 37.5°C will be denied entry.
*NEW 2022* MASK REQUIREMENTS
All staff and patrons over the age of 12 will be required to wear a face mask when on Youth Club premises. Athletes over the age of 12 are permitted to remove their mask for the duration of their class. Athletes who do not wish to wear a mask while training must however put their mask back on as soon as their class has concluded.
Any patrons that are unwilling to follow these safety measures will be refused entry.
WHAT TO WEAR AND WHAT TO BRING
Please arrive dressed and ready to train.
Karate athletes should wear a clean uniform to training.
Trampoline and Tumbling athletes should wear their club shirt and a clean pair of shorts or pants to training. Athletes must not train in their school uniform.
Trampoline and Tumbling athletes must bring a clean pair of socks to wear for the duration of the lesson.
Athletes will need to bring their own, pre-filled water bottle to training. Please make sure the bottle is clearly labeled with the athlete's name. Sharing drink bottles is not allowed, even amongst siblings. Food will not be allowed to be consumed on the premises. Please do not bring any food or snacks to training.
DROP OFF AND PICK UP
We are continuing our 'Drop, Train, Leave' policy to limit unproductive time and reduce the risk of transmission between members. This means athletes should arrive on time and leave promptly at the conclusion of their lesson. Additionally, there are changes to how members will enter and exit the Youth Club.
The drop off procedure will be the same for all members. A coach will be stationed outside the main entrance for five minutes prior to the start of each class to supervise entry into the Youth Club. Athletes should be dropped off by the war memorial on Central Road and line up outside the main entrance using the provided social distancing markers. The supervising coach will then direct athletes into the Youth Club one at a time where they will sanitise their hands and be signed in.
At the conclusion of their lesson, Karate athletes will sanitise their hands and be escorted out of the Youth Club by a coach via the main entrance. Parents collecting their children should wait against the building by the main entrance in a socially distanced manner. The supervising coach will remain at the door to ensure the safe collection of all athletes.
At the conclusion of their lesson, Trampoline and Tumbling athletes will sanitise their hands and be escorted out of the Youth Club by a coach via the disabled access door at the rear of the Youth Club. Parents collecting their children should wait at the bottom of the wheelchair ramp at the rear of the building in a socially distanced manner. The supervising coach will remain on the ramp to ensure the safe collection of all athletes.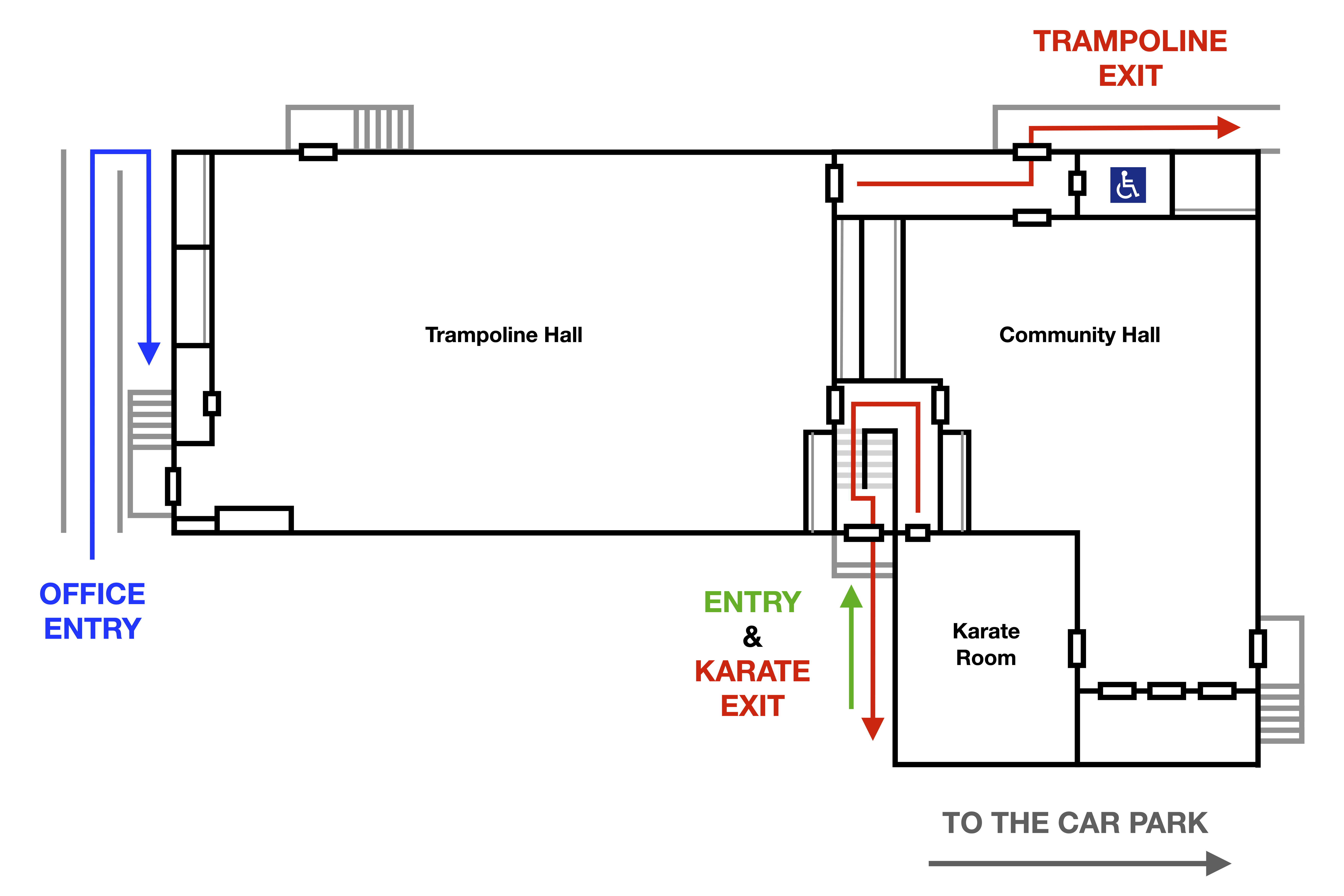 Athletes who arrive early should either wait in the car or socially distanced at the front of the Youth Club until their class is scheduled to begin. Please wear weather appropriate clothing as there may be a short wait.
Due to social distancing requirements, we will be limiting the amount of people who can enter the Youth Club and will no longer provide a dedicated viewing area. We ask that parents and siblings remain outside the Youth Club when dropping off or picking up members. If there is a reason you need to be present for a class, please contact your head coach who will be able to discuss your options with you. See the Resources and Contacts section below for contact details.
HYGIENE
All staff and patrons will be required to sanitise their hands upon arrival and departure from the Youth Club. In some cases, athletes may be required to sanitise their feet.
Athletes may also be asked to wash their hands prior to or during class.
If your child has any underlying health conditions, including skin conditions, you should notify us immediately. You may be required to provide your own hand sanitiser.
Athletes needing to use the bathroom during a lesson will be asked to use the Disabled Toilet located in the hallway at the rear of the Youth Club. Shoes must be worn when using the bathroom.
LESSON STRUCTURE
Athletes will be required to social distance where possible. This requirement will be integrated into lesson plans and re-enforced through signage around the Youth Club.
Trampoline and Tumbling classes will be divided into small groups that will train together for the duration of each lesson. Siblings will be grouped together however we cannot guarantee that friends will not be separated.
We will be limited in the way we use some equipment which may change the way skills are taught. While these restrictions are in place, athletes may find that their skill development slows.
If an athlete starts to feel unwell or exhibit flu-like symptoms while attending training, they will be isolated from the class in a designated area under the supervision of a coach until they can be picked up. We may request that the athlete be tested for COVID-19 before they are allowed to return to training.
Please make sure that you have provided us with up to date contact details in case we need to contact you for an urgent matter.
AFTER CLASS
After attending training, athletes are encouraged to return home and shower to reduce the potential risk of transmission.
If an athlete begins to exhibit any flu-like symptoms after attending training we ask that you inform us as soon as possible either by our club phone (02) 9524 5958 or by calling Mr Bull on (02) 9522 0484.
REGISTRATIONS AND PAYMENTS
We are still processing payments and registrations on site through the office. Parents wishing to make a payment are asked to enter and exit via the northern wheelchair ramp and staircase. This is marked on the map in the Drop Off and Pick Up section.
CONTACT TRACING
All non-registered members are required to sign in via QR code upon entering to the Youth Club. Please ensure you have installed the Service NSW on your phone to expedite this process. Member details will continue to be recorded via our class roll system.
RESOURCES AND CONTACTS
For more information about COVID-19 and its impact on sporting organisations, visit the websites below.
Australian Government Department of Health
If you have any questions or concerns about our measures including if you wish to make a complaint, email us at info@mirandarslyc.com.au or contact your Head Coach.
Trampoline and Tumbling Head Coach: Robert Bull – (02) 9522 0484
Karate Head Coach: Brian Cox – 0432 870 396
If you do not believe your concern has been adequately addressed, you are invited to contact Gymnastics NSW via the Online Grievance Questionnaire.